Remembering: The Shell Shop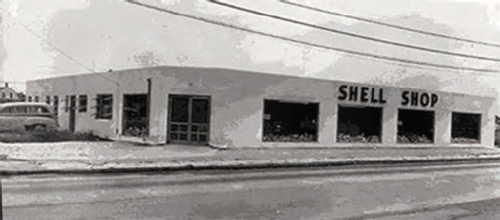 The Shell Shop c. 1930s
The Wildwood nostalgia buffs among us may affectionately recall Ed & Peg Culver's Shell Shop that was once located on the road into North Wildwood. The ultimate seaside souvenir shop, it provided its visitors with unique mementos along with lasting memories.
The Shell Shop was located across the street from North Wildwood staple Henri J's. When its building was demolished in 2002, Henri J's son, Hank, fortuitously managed to salvage the 10 foot hand-painted sign of the original Shell Shop for his Wildwood memorabilia collection.
That sign has since found a home in Linda Radue's New Hampshire woodshed. Linda and her family, having experienced many Wildwood summers, have a fond connection to the town and its rich history, so much so that she endured a long car ride to possess this sentimental part of that history. At some point, though, she plans on donating the sign back to the Wildwoods Historical Museum, bringing it closer to the home it once had.
The Shell Shop was a one-of-a-kind place. It fit so well on the island and with its residents. It carried the best souvenirs and baskets filled with every kind of shell, a creative variety of shell-inspired items, driftwood, hermit crabs and many may remember the Mexican jumping beans.
Ed & Peg Culver's Shell Shop has since become a sweet recollection, a long-ago Wildwood treasure of simpler times, that is truly missed. To share Shell Shop stories, please send to sun-by-the-sea@verizon.net or to Linda at Lmrgem@aol.com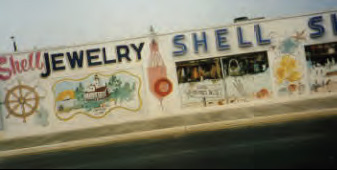 The Shell Shop c. 1993. Photo posted on Doo Wop Preservation blog

The Shell Shop c. 2001
Historic Photos courtesy of Wildwood Historic Museum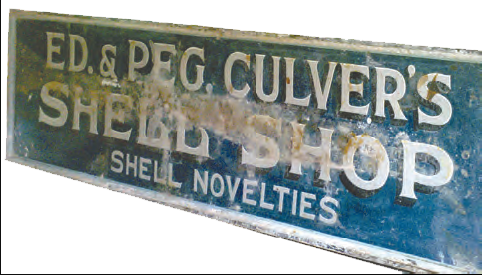 The Culver's Shell Shop opened sometime in the 1930s on Spruce Ave. in North Wildwood. They also sold their shell novelties on the boardwalk.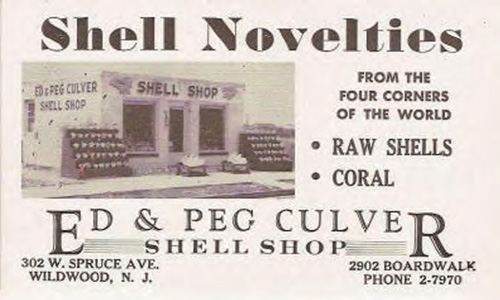 One of the earliest advertisments of the Shell Shop